22nd & 23rd Feb-04 Storm Report:
Copyright © 1998-2004


The 22nd and 23rd of February will go down as two of the most ferocious electrical storm nights that the Cooloola region has seen. Although no human life was lost, the same can't be said for animals and livestock.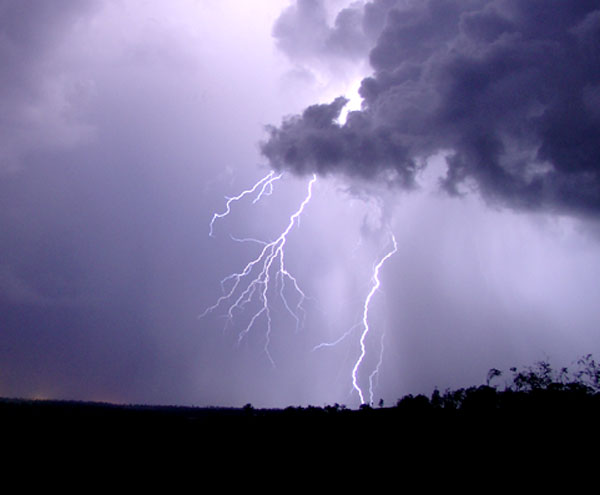 Fire in the sky over Gympie and surrounds.

On Sunday night at about 11:00pm the storms struck the Cooloola region and continued for about four hours. Strong winds and massive lightning bolts shook the area, and in some localities as much as 70mm of rain as well as some small hail fell. The Albert Park Grandstand was lucky to be still standing on Monday after lightning struck it's fire proof switch box, completely melting the contents. It is fortunate that the switch box was of a fire proof construction so that the ensuing fire was contained within it. Telecommunication systems, computers and electrical switchboards all fell victim to the ferocious lightning which ensued from the Sunday and Monday night storms...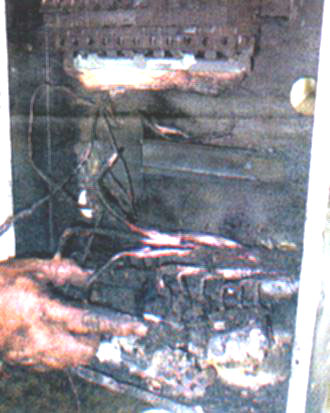 The inside of the Albert Park Grandstand Switch-box.
On Monday night the first of the thunderstorms struck at about 8:30pm. The electricity that was unleashed in these storms was mind blowing, I personally saw CG (cloud to ground) strikes hitting the same place as much as four times in a matter of minutes. While traveling into Monkland, just south of Gympie my wife and I saw a lightning bolt strike one of the trailers of a B-Double Semi as it was heading south down the Bruce highway, it's driver was as white as a ghost and clutching the steering wheel with his pedal to the metal.
Up to 150mm of rain fell in an area from Curra to Cedar Pocket on Monday night with thousands of lightning strikes being recorded. The storms took a severe toll on the lives of animals that night, at Stuart road, Coondoo east of Gympie four stock horses were killed by a lightning strike. At Cooran south of Gympie five cows and three calves were all killed by a lightning strike, a bull was killed as well in another strike. At Kandanga south of Gympie, a cattle dog was killed as lightning struck the tree next to the trailer that the dog was tied up to, the severity of the lightning causing the dog's chain to melt and weld all the links together.

We should never under estimate the seriousness of a thunderstorm, the safest place is within a building or a motor vehicle, avoid going out in a storm if you can at all costs, especially for 20 minutes before the storm actually arrives and 20 minutes after the storm leaves, these are the most dangerous times to be exposed to CG (cloud to ground) lightning. Ted Uebergang